MUSLIMGAUZE
No Human Rights For Arabs In Israel CD
vivo2004009CD
in conjunction with The Label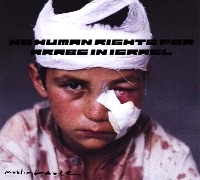 1.Refugee (7.19)
2.Teargas (4.10)


3.Refugee (7.28)


4.Teargas (1.05)
5.Refugee (5.32)
6.No Human Rights For Arabs In Israel (19.26)



Yes another No Human Rights...

In a situation not totally unusual for Bryn, Staalplaat had received at least two DATs with the "No Human Rights For Arabs In Israel" title but the tracks were not the same. There is an overlap of material, to an extent, but more differences than similarities.

Hopefully all of the material will be made available at some point but for the interim here is one of them in its totality.

Two tracks on this release are versions of tracks from Staalplaat's subscription series 10" of the same name. "Refugee (1)" is a lengthier version of what appeared on the 10" as "Wadi Araba" and "No Human Rights For Arabs In Israel", though bearing the same title as the title track from the of the 10", is actually a lengthier version of "Herzliyya" from the 10".

There is very little information regarding when exactly these tracks were recorded or when the DAT was received. There is no question that the material was from the same period as the material on the 10".

It is a solid recording from beginning to end and we feel will stand in good stead amongst Bryn's oeuvre.

We are pleased to have been able to bring this release to fruition as a joint effort between The Label and Vivo Records. A great nod of gratitude to the boys in Amsterdam as well. Staalplaat was a critical factor in this realization and the artwork was also provided by their "master".
***